I actually wrote something significant for this issue but I'm on a roll with these track descriptions and I don't want to take up too much of your time. More in the next one!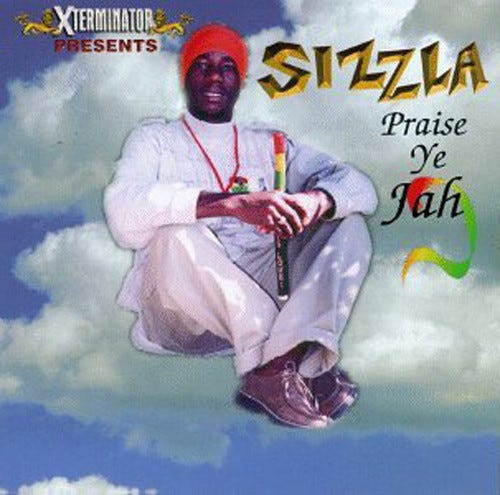 Hail di emperor-ah-ah-ahhhhhhh
Sizzla - Praise Ye Jah
Trying to dive into more of the heavy Caribbean jams lately. Sizzla has a good atmosphere on this track, his affect is harder and in-line with a ragga sensibility while the track keeps it chill with that deep digital delay.
Pinback - Barnes
I've been unabashed about my new-found appreciation of everything Rob Crow over the last ~12 months. While its "Magic: The Gathering" album art is nearly unforgivable, the three-track sequence leading off Autumn of the Seraphs is just tremendous. "Barnes" is track two and finds them in the heavy groove.
The Dismemberment Plan - You Are Invited
Keeping the same energy — finally listened to Emergency and I in April maintaining my enthusiasm for frat-adjacent emotional indie rock. The DC sensibilities are obvious here. D-Plan's compositional work on this track is genius and aligns beautifully with the storytelling deployed by Travis Morrison. Live drums and full instrumentation are reserved for the bumping party scene, and their absence across the rest of the track reinforces the narrator's intimate moments with the magic invitation.
Velocity Girl - Crazy Town (Peel Session)
Absolutely better than the studio version. The guitars on this one burn.
American Football - Doom in Full Bloom
Of course this new record is nowhere close to the bookish Champaign-Urbana energy from LP1, but it's as close as you're gonna get in 2019. I wasn't too sure of what to expect after their wet fart of a comeback LP in 2017, which included ostensibly the cringiest Owen b-sides put over tight instrumentals unworthy of such annoying lyrics. Their seemingly endless touring is still surprising, but it seems to have helped Mike K. figure out what the people want, and what people appreciated the most from that first record. Lyrically he dials back the wise-ass-ness, while the guitars have never sounded more dialed-in.
Joni Mitchell - Carey
Hitting the spot for whatever reason. Get out your goddamn cane.
Irreversible Entanglements - Fireworks
I'd highly recommend sitting and watching an Irreversible Entanglements set at some point. This one's new as of two weeks ago and best demonstrates what I love most about watching them perform — Camae staring into the crowd or shutting her eyes, nodding profusely and channeling the mania her bandmates are crafting. On "Fireworks," her rage comes interspersed by the various popping and slapping noises that mirror those brief explosions of beauty (fireworks) and pain (gunshots).
David Grubbs - Aloft
Once a main point of artistic interest for me, sonic reactions to 9/11 / Iraq War have taken a backseat in recent years — Rickets and Scurvy has a few moments on that tip. "Aloft" beautifully captures tranquility and acceptance of catastrophe — "How sharp those steeples, and how fucked those peoples".
2 other quick notes on DG as if I don't talk about him enough in this newsletter… I'm reading Records Ruin The Landscape right now and it's outstanding. Here's a hilarious vid of him dancing on Chic A Go Go.
mewithoutYou - Michael, Row Your Boat Ashore
Not a cover of the classic spiritual (and thankfully not indebted to The Highwaymen version from the 60s, but that's a discussion for another day). I saw mewithoutYou on Friday night in New Jersey and it was, as always, an utterly engaging and powerful gig. One of the very few songs in their discography that I can't imagine they would play live, the chaos is all-encompassing. My man be legitimately screamin'.
We Versus The Shark - I Am Destined For Greatness
The lesser-known "versus shark" math rock group which ends up being a deft combination of the party-jam DC style and a more direct emotional sentiment a la Unwound. Bassist/vocalist Jeff Tobias now rips the alto sax and synth in Sunwatchers, NYC's premiere psychedelic band for social equity and prison abolition.
Vampire Weekend - Stranger
YOU AND KIDADA!!!!!!!!!!!

Updates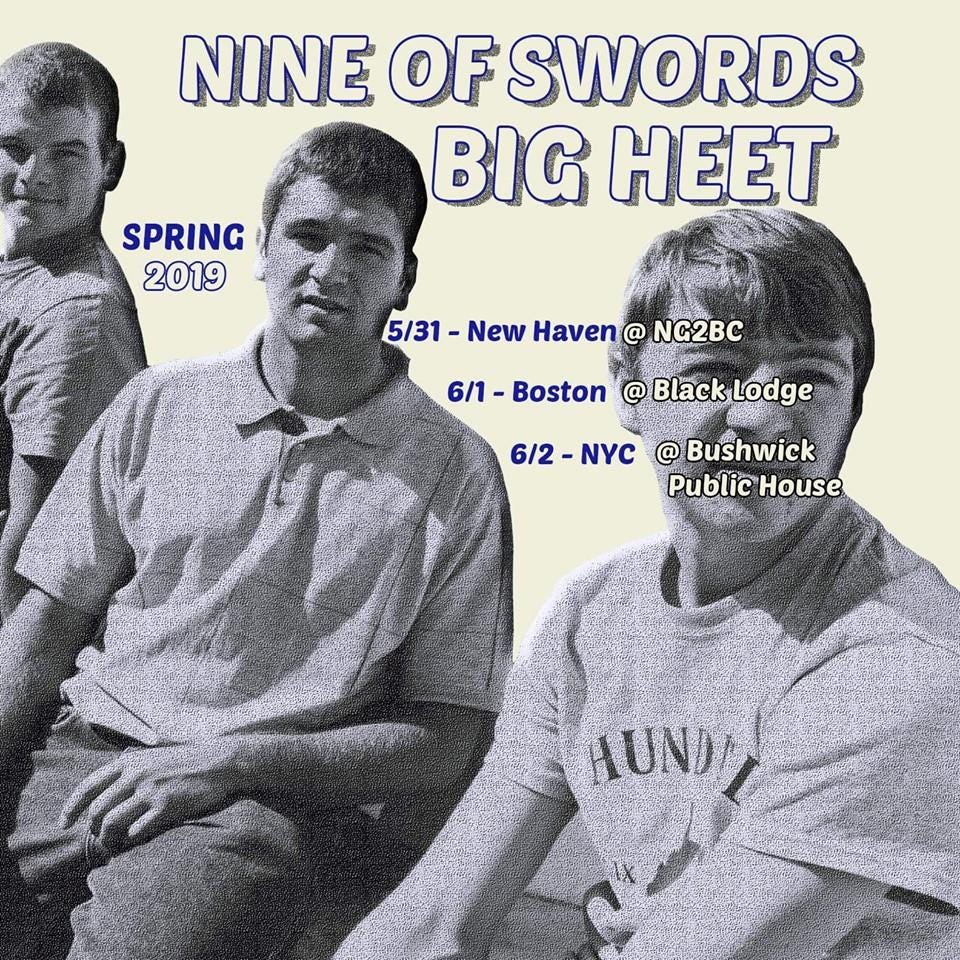 Nine of Swords is going on a mini-tour in a few weeks. Trying out some new stuff alongside the classics. Get into it.
May 31 we're at NG2BC in New Haven.
June 1, it's the Black Lodge in Allston.
We wrap up on June 2 at Bushwick Public House.
Future Interior performs at Trans-Pecos on June 6.
NYC libraries need your help. We're under threat of budget cuts from the Mayor who keeps asking us to do things and uses our space whenever it's convenient. We have a nearly 900 million dollar shortfall in crucial capital needs. It's not cool generally speaking, but especially so in the "Fairest Big City in America". Take a minute to shoot a letter to NYC officials to help reinforce the importance of libraries in your communities.
Here's a picture of David Byrne wearing an "Invest In Libraries" pin on his blazer. That pin used to be on my blazer, so that's cool. Talk soon.